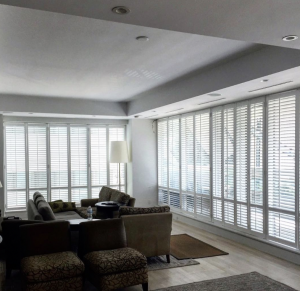 Window shutters are a great addition to any home. Not only do they allow the homeowner to control the level of light in the room, but also serve as a great aesthetic addition. They are also the only type of window shutters that increase the selling value of the house. When it comes to choosing between California shutters and plantation shutters, there are a few differences homeowners need to consider. In this blog, we highlight the essential differences between California and plantation shutters.
Main differences between California and plantation shutters
Louvre width
The feature that makes California shutters different from plantation shutters is the width of individual horizontal panels, referred to as louvre. The average size of California shutter louvres is 2.5 inches while plantation shutter louvres are at least 3.5 inches wide.
Application
Given the different louvre sizes, each type of shutter suits different room and window sizes. California shutters are usually installed on smaller window frames in rooms that are not too big. Plantation shutters, on the other hand, look better on larger window frames such as living room, bedroom or backyard windows. It is important to speak to a designer when ordering window shutters. A designer will give professional advice on the type of window shutters suitable for individual windows and room size, ensuring the shutters are proportionate.
Cost
The cost of both types of shutters primarily depends on the size of the window, louvre size, as well as the material louvres are made of (wood, faux wood or vinyl). However, plantation shutters can be a little more costly due to the louvre size and more complex installation process.
Most homeowners tend to install California or plantation shutters solely on the front windows with the aim of improving their home's curb appeal.
Both California and plantation shutters provide fairly the same level of privacy and add a unique look to the overall setting. They also boast impeccable quality and durability compared to other less expensive window coverings.

When shopping for window coverings, it is important to understand the ultimate goal you want to achieve. Our expert designers at The Original California Shutters Toronto will advise you on the louvre size and colour selection to make sure your new window shutters complement the interior design of your home and last for a long time.